Creditor Harassment Defense Attorneys in Los Angeles
Our Attorneys Will Protect You Against Bill Collectors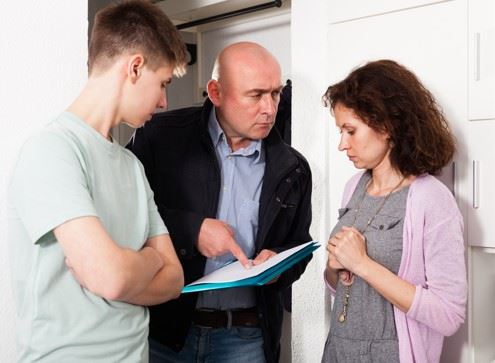 If you have fallen behind on bills, you may be incessantly harassed by creditors. They may send you threatening letters and emails, contact you by phone, and even send representatives to your home or workplace to collect on debts. While they do have certain rights in seeking re-payment, your rights must be defended and debt collectors must adhere to the law.
The attorneys of Weintraub & Selth, APC have decades of experience protecting the rights of our clients and helping them put a stop to creditor harassment.
For a candid discussion with an experienced attorney regarding creditor harassment, call (310) 220-4147. All consultations are strictly confidential.
On This Page:
What Debt Collectors Cannot Do
The Fair Debt Collections Practices Act puts limits on things that third-party debt collectors can and cannot do while they are collecting debts that you owe.
Debt collection practices that are forbidden:
Annoying phone calls at all times of day and night
Contacting your family members, co-workers, and others to ask for your whereabouts and personal information
Pestering you at work and at home
Using obscene or profane language
Threatening you with wage garnishment, repossession, and litigation
Lying about the amount of debt you owe
Threatening to have you arrested
Publicly shame you for owing money
If a creditor uses any form of the above harassment or misrepresentation when interacting with you, may be able to take legal action against the creditor for violating the law.
What To Do If Creditors Are Harassing You
There are steps that you can take to stop creditor harassment.
Write a formal letter to your bill collectors requesting that they cease their belligerent or rude behavior. You can also have an attorney write such a letter and suggest that a legal complaint may be forthcoming.
Document your harassment. Keep records of all the calls you receive, along with other communication. It may even help to have someone present who can provide as a witness to the harassment.
File a complaint with a government agency. If the harassment continues, you can report the harassment to the Federal Trade Commission or your state's agency. Be sure to include all of the evidence and documentation that you have compiled.
Contact a bankruptcy attorney. Requesting that a creditor stop contacting you may or may not be successful. One of the strongest ways to put an end to creditor harassment is to file bankruptcy.
Bankruptcy's Automatic Stay Stops Creditor Harassment
After you file bankruptcy, a federal restraining order, called the automatic stay, forbids the creditor or collection company from contacting you. This becomes effective immediately, and if the creditors continue to harass you, they will face serious legal consequences.
If you believe that debt collectors are violating your rights and you need legal help in stopping creditor harassment, do not wait. Call the attorneys of Weintraub & Selth, APC and we will protect your rights and offer guidance on what your next steps should be. Often a letter from Weintraub & Selth, APC is enough to stop creditors from hounding our clients. If more is necessary, we are well-equipped to take more aggressive steps.
Contact our bankruptcy attorneys today for help fighting creditor harassment.
Hear from People We've Helped
Read Our 5 Star Reviews
"I am not sure how to express my thanks..."

- Paul T

"[Jim Selth] has always come through in a very professional, timely, and responsible manner."

- Marc B.

"If you are a business owner going through difficult times and need help restructuring or closing your doors, this is the law firm ..."

- Paul Trump
Why You Can Trust Our Firm
The Right Firm Makes a Difference
Thousands of Cases Handled

Our experienced attorneys have successfully represented thousands of businesses and individuals with financial problems.

We Offer Cost-Effective Expertise

Flexible fee arrangements enable small and mid-sized businesses to obtain the type of relief usually reserved only for large companies.

Big Firm Experience at a Boutique Price

Our lawyers have big firm training and expertise offered to clients in a cost-effective, boutique firm environment.

A Full-Service Bankruptcy Law Firm

One of the few true full-service bankruptcy firms in Los Angeles specializing in all chapters of the Bankruptcy Code and out of bankruptcy solutions.